JPF First Aid have been notified that they have been shortlisted for an award with Lichfield District Council's, Beacon Awards.
These awards celebrate the very best in local businesses with the awards evening taking place in October.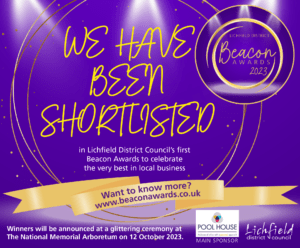 The company have been recognised and considered towards – Start Up Business of the Year Award 2023.
JPF First Aid are once again humble and proud towards being finalists. To have received this announcement earlier this week is just exciting and brilliant news to be able to share.
We would like to wish all finalists the very best of luck at the awards event on 12th October 2023. This includes those finalists in the same category award as JPF First Aid.
For more information about the awards and to see the announcement please see their website – Shortlist – Beacon awards
Update:
It was pleasure to attend the awards event held on 12th October, which turned out to be a brilliant evening.  Although JPF First Aid were not the winners of the award, we were nonetheless delighted to be awarded a Commended Certificate from Lichfield District Council for Start Up Business of the Year!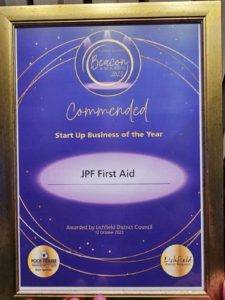 Thank you to Lichfield District Council and the judges for your consideration of JPF First Aid – much appreciated.